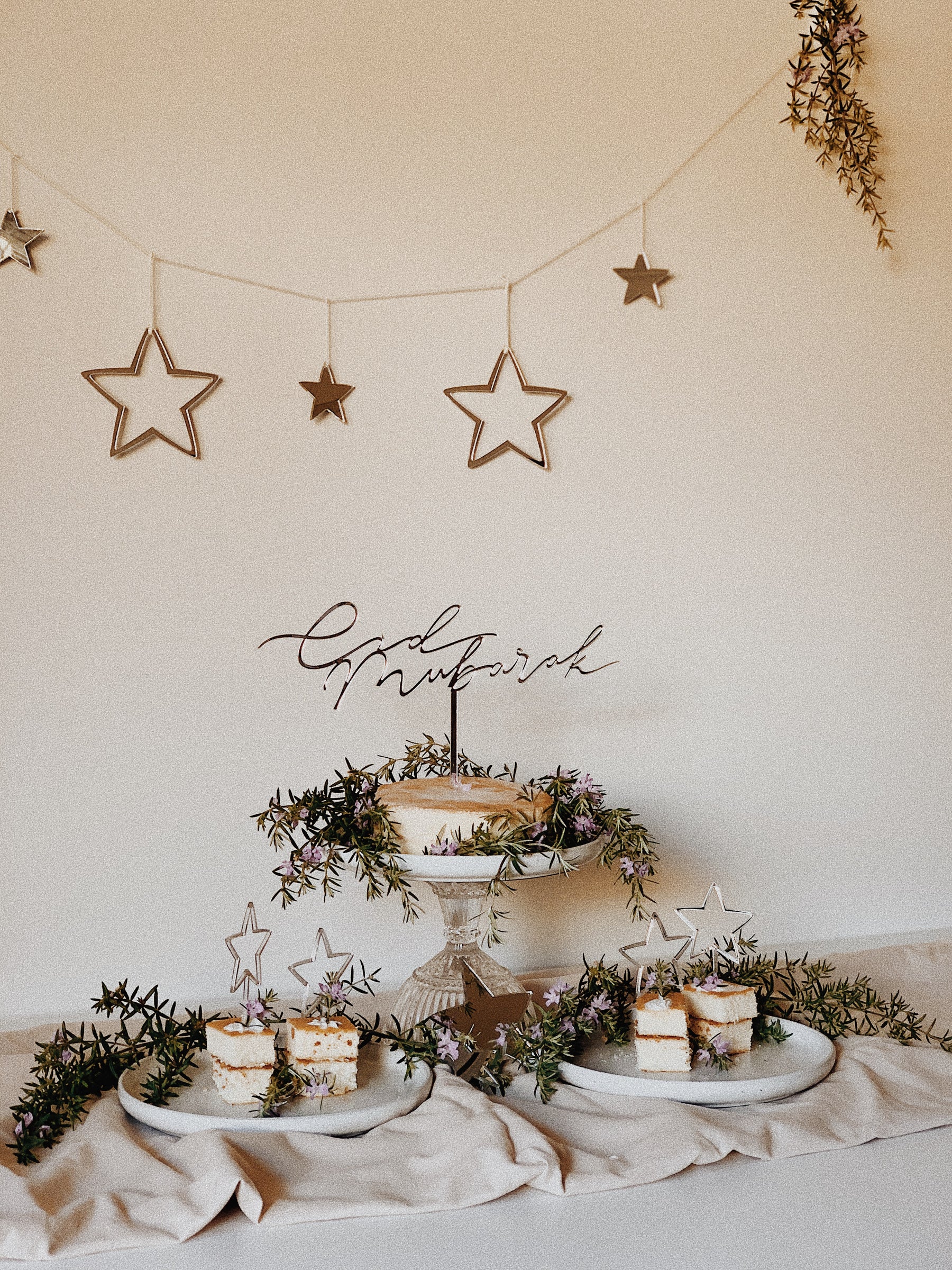 EID DECOR | STYLING THE EID MUBARAK CAKE TOPPERS
Unfortunately last Eid we weren't able to create our Eid Mubarak cake toppers in gold mirror acrylic and what a shame that was because we've made some for Eid Al-Adha and they are so stunning (am I bias? Obviously but for reals guys...I'll let the photos do the talking!)
You can purchase the Eid Mubarak cake topper here. Choose between wood, gold mirror or silver mirror acrylic.
Last Eid, with everything going on for us prior to launching the Ramadan/Eid collection I didn't get to photograph the cake toppers on a cake. I don't bake, sadly, my baking skills are non-existent + not being able to eat dairy means cakes aren't really all that nice. I decided to take some photos and didn't get a real cake so made a watermelon cake and well if I'm being honest a watermelon cake isn't a cake it's just...a watermelon.
Well, this time you guys, I got a Coles cake. And I hacked it (like literally I hacked it and cut it up and used half for the "cake" and the left over bits as "cupcakes" which are really just squares of cake with whipped cream from a can on top. See, don't ask me to bake lol! I also handed the cake over to my parents once I was done for them to enjoy all the dairy.
Cake toppers. They're so simple but can make such an impact. If you don't have the time to decorate for Eid or if you're invited out and want to take a cake, these cake toppers are the easiest way to decorate and bring that festive Eid feeling with.
I thought I'd show you guys how to style the cake toppers and on a budget. The only things bought for this set up are the cake and cake topper. The rest I had at home! I'm all for using what you have rather than buying things for a specific occasion, unless of course you know you'll use them again.
That's another great thing about the acrylic toppers, with correct care they can be wiped clean and reused for many Eids to come.
Our Eid Mubarak cake topper set includes 4 small star toppers, these work perfectly on cupcakes or any other small dessert and can tie your dessert table together very easily. The star toppers are star outlines, as we hate wasting anything we cut a small hole into the top of the star that's created when the topper is cut (the inside piece) and we include this inside star in the set. This allows you to utilise this piece in your decor.
I decided to use 3 of them from the cake topper set and 2 of the small star cut outs from our Eid Mubarak banner sets to create a star garland as my backdrop. I used some yarn I had lying around that probably wasn't the best colour but it works!
As I don't bake, I don't have cake stands or other serving ware so I simply used 3 of my plates and one of my mums mini vases (don't actually know what it is) but I turned it upside and placed the plate with the big cake on top to create some height.
I cut some of this beautiful greenery with the most delicate purple flowers from our garden as I've been dreaming of a way to utilise it every time I see it. I placed them around the cake and around the plates with the cupcakes. It really bring the whole look together and creates such an enchanting and magical festive feel to what would otherwise be a very simple set up.
I used all 4 of the star toppers in my "cupcakes" and decided they needed a tiny piece of the greenery + purple flower and I love the way it turned out!
I added in the last inside star that was left from the garland as well as a small star from the Eid Mubarak banner set at the bottom of the cake stand for that extra sparkle.
I really love how it all turned out and hope it gives you guys some inspiration for your Eid decor!
Love, Naeema
You can purchase the Eid Mubarak cake topper here. Choose between wood, gold mirror or silver mirror acrylic.