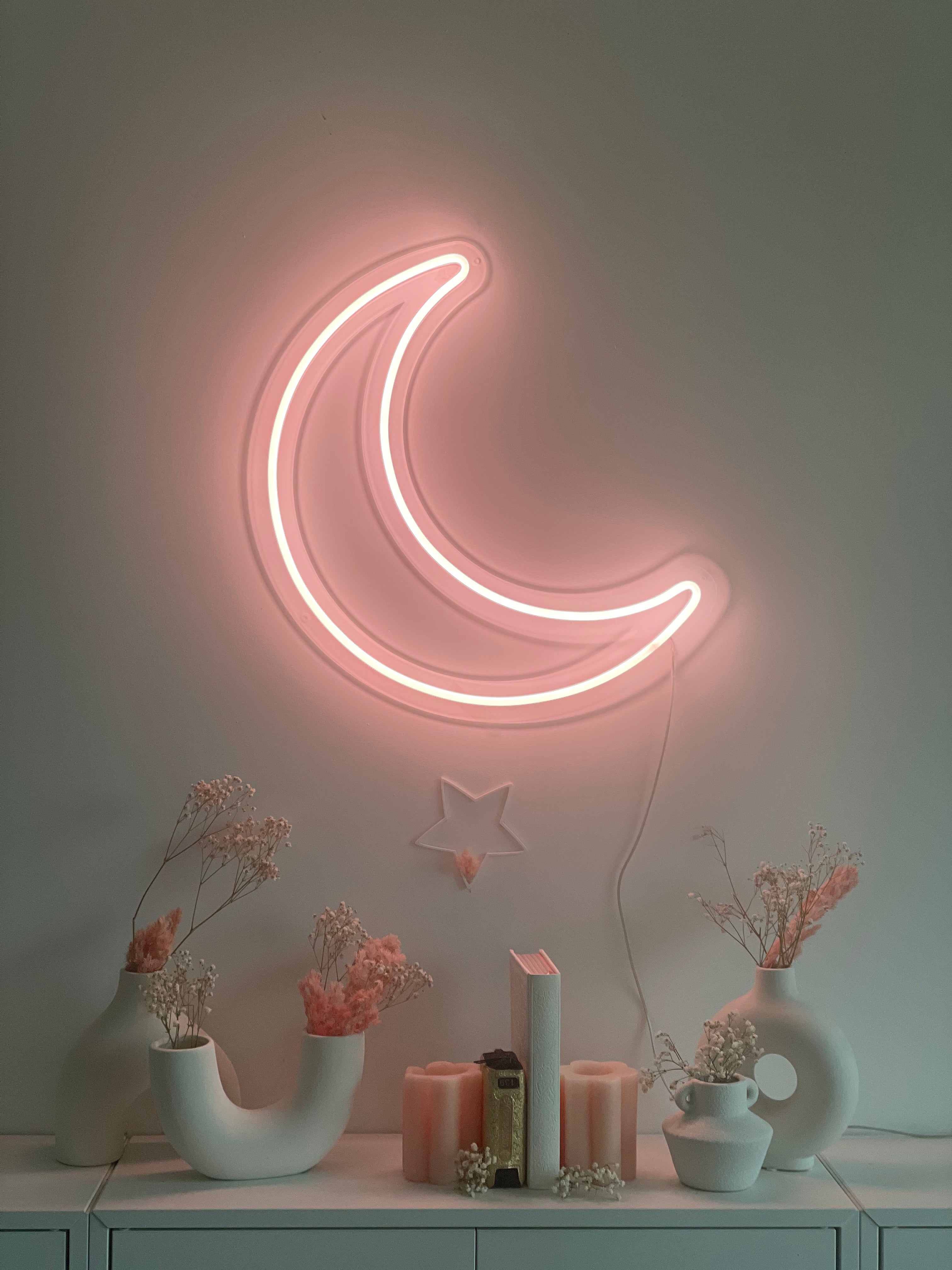 DETAILS
LED RGB flexible neon (l

ighter, safer, more energy efficient + durable than traditional glass neon)

Red Green Blue (RGB) Neon allows for customisation of almost any colour shade and tone!
Mounted on 4.5mm clear acrylic
At least 2 meters of power cable
Touch-type dimmer switch
12v DC power supply 110-240v compatible
WiFi controlled colour and function selection through iOS and Android app
Comes with IR Remote for use without WiFi/App
There's no other words to describe this neon moon other than it's the perfect light. We have evolved this from the first Warm White Neon Moon we created ust before Eid Al-Adha 2019. We loved the warm white so much, we thought it would be incredible to be able to customise the colour to suit the mood and room, so here we are!
This moon light will work perfectly in any part of your home, whether it's your dining area or kids bedroom.
Despite its size, the RGB Neon Moon produces a lot of light, enough to be used on its own to light up your space. It is quite bright at full power, you can control the brightness through the remote or the app on your phone via WiFi.
ADDITIONAL INFO
Please handle with care
Colours may vary due to screen settings
Although we suggest the use of 3M adhesive strips, this is for temporary applications. Fixing this sign to the wall using the supplied stand offs is the safest and most permanent option. Mounting or hanging this sign is at your own risk. We do not recommend mounting above cots/beds or any areas that may cause harm if the mounting adhesion fails
The power adaptor works world wide (110v & 220v) however you may need to purchase a travel plug adaptor if you live outside Australia. This is the same type of adaptor you would provide to a guest staying at your home from overseas

TECHNICAL SPECIFICATIONS
Weight: 580g (moon only)
Length: 53cm
Width: 35cm
Height: 3cm
216 LEDs (Approx)
25watts (Approximately, on full brightness)